Sharp, Dramatic, Inspired
Sewing Patterns for Mature Figures
Styled and Sized for Mature Figures
Most sewing patterns are made for youthful "hourglass" figures, even though very few of us are actually that shape!
The natural rhythms of life - childbirth, age, health issues - can change our shapes a lot. Our sewing patterns should change, too!
Style Falcon patterns suit "mature figures." That means:
Little bust-to-waist definition
Lower bust points, for a "C" to "D" cup
More room for your tummy, hip and bicep
Center-back seams, with rounded back and forward shoulder shaping
For Sewers of All Abilities
Accessible for the visually impaired, with bold lines and large-print instructions.
Clear, expertly written and illustrated instructions.
In paper and digital formats.
Print digital patterns at home or at a copy shop, with layered sizing so you just print the sizes you need.
Options for sewers from beginners to experts.
Meet the Team
Diane Scarponi, a home sewer with 20+ years of experience, designs Style Falcon patterns. She works with professional pattern makers, graders, graphic artists and illustrators to create each pattern. Click here to learn more about why I created Style Falcon. And click here to learn more about the Style Falcon Team.
Recognized by the SewOver50 "Sew Over Ageism" campaign.
Hear about the Style Falcon story on the "Sew Organized Style" podcast.
The Style Falcon Collection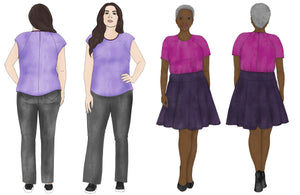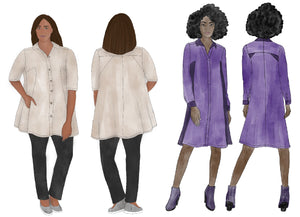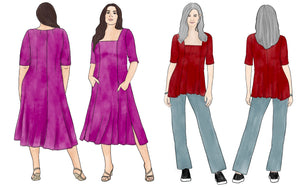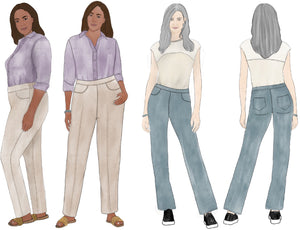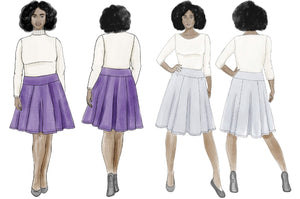 Mature figures deserve fashion that fits!
Tips and Tutorials
---
I love sewing with stripes and plaids. How about you? If you're worried about matching motifs or getting symmetrical stripes, check out this Two-minute Tutorial. You'll get lots of quick tips...
Faux leather - sometimes called "vegan leather" - brings structure and edge to any garment.  Want to give it a try? You'll need a few special tools and techniques to...
Want to lengthen or shorten a pants pattern? Tempted to just add or remove length at the hem? There's a better way! This two-minute tutorial shows you how to adjust...
What's Happening at Style Falcon
---
Ever wonder how a sewing pattern is made, from idea to final garment? Check out this blog to see how the Style Falcon Positive Space Jacket came to be.
The Gorgeous Godet Top got started with an idea and a quick sketch. Here's a behind-the-scenes look at how it came to be in the wardrobes of sewists around the world.
Style Falcon soars as a team